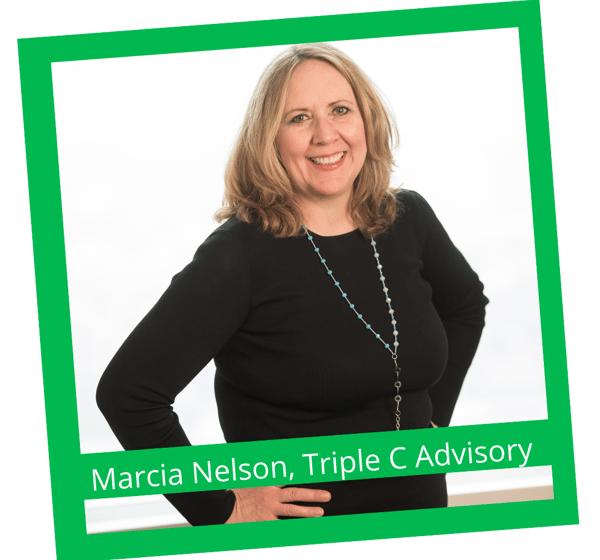 Marcia S. Nelson | Managing Director and Registered Representative, Sharenett Securities LLC | Founding Partner, Triple C Advisory
Marcia is a Managing Director and Registered Representative at Sharenett Securities LLC, a members-only global network of professional investors collaborating on curated, quality investment opportunities. Marcia has spent a large portion of her career working in and for family offices and private dealmakers. She was previously at Alberleen Family Office Solutions, an independent investment advisory firm backed by family offices, and she formerly worked for an ultra-high-net-worth philanthropic family as well as a sports and entertainment family. Over the last 20 years, she has developed a strong network of private families, institutional investors, and advisers who are increasingly seeking access to quality direct deal flow from trusted, experienced partners.
Triple C Advisory is a business life cycle consulting firm Marcia co-founded. Working off three pillars – Customer Acquisition, Consulting and Capital – the firm works with early-stage companies as an advisor and board member to prepare them to receive institutional-grade investments and advises family offices on investment themes and strategies.
Marcia serves as an advisor to Single Family Offices as well as on the boards of several industry-related organizations, including Chairman of the Board of ACG-NY (Association for Corporate Growth), which focuses on driving middle-market investments; Vice-Chairman of the Board of VentureCapitall.Org, a non-profit early-stage start up accelerator. And she's on the Advisory Board of Assure, an SPV Fund Administrator, an Advisory Board Member of Sheryl Grant Enterprises, a mentoring and education organization focusing on minority women; and serves on the Investment Committee for University Impact, an impact-focused donor-advised fund.
Marcia received an honorary mention as one of the 2021 Most Influential Women in Mid-Market M&A by Mergers & Acquisitions magazine and one of its 2020 Most Influential Women. She was named one of the 2018 Who's Who In Impact Investing by the Denver Business Journal and was honored with the 2017 ACG-NY Women of Leadership Award. She received her BA from Southern Utah State College and her MBA from the Gabelli School at Fordham University. Marcia holds Series 7 and 63 licenses.
Founding Partner, Triple C Advisory